About Grape Gasoline
Grape Gasoline is an indica-dominant cultivar from Compound Genetics in Oregon. It's a cross of Grape Pie and Jet Fuel. The top reported aromas of Grape Gasoline are sweet grapes, cookies, and pungent gasoline. And it is said to taste like sweet fruit and earth.


From Gord at North 40: "This Indica hybrid mixes the best of the sweet, sticky fruits together with pungent, dank fuel terpene profiles. It carries an uplifting yet relaxing and calming feeling."
Terpene Analysis
Myrcene
Ocimene
Caryophyllene
Reviews and Q&A
North 40(Helios) Grape Gasoline 26.31%thc 1.8% terps Review
Brand/Strain:
North 40 brand strain today is Grape Gasoline.
This is actually grown by grower chosen by North 40 called Helios through their micro series the North 40 Slurricane I believe is also grown by them.
Grape Gasoline is mix of Jet Fuel Gelato and Grape Pie.
Price/Cost:
7 grams of Grape Gasoline through Herbal Dispatch cost me 69.95$. This is before any discounts or mix and match flower discount offered through Herbal Dispatch also it can bought directly from North 40 and recently Mendo now too.
Weight:
Unfortunately could not weigh item still in process of getting scale .
Aroma/Scent:
Looking of the bag I can within 1.8% terpenes the dominant terpenes are Beta-Myrcene ,Farnesene, Trans-Caryophyllene.
Opening the bag the first aroma I'm hit with is smell is strong gas aroma with almost musky dank aroma a bit .(Mycrene,Farnesene).The musky aroma almost turn into kinda woodsy/forest kinda musk which turns into this fruity/Grape aroma .(Caryophyllene, Farnesene,Myrcene).
Overall it nice mix of those gassy terps from jet fuel Gelato and those fruity Grape undertones from Grape Pie although wish it came through stronger that ⛽ aroma.
4/5
Appearance/Structure:
The bud structure was nice medium sized nug here and therewith large one but also some bits of nugs that fallen off another bud . Nice dryness and moisture not brittle and good spongyness to it. Nicely coated in tricomes and very caked .
Overall very pleased .
4/5
 
Trim/Cut:
Trim was done nice bud were left intact for most part their were some small bit off another nugs but it was nice no sugar leaves.
3.5/5
Vape/Flavour/Taste:
I took my wood vape out to try although I don't exact temps it being heated to I do taste flavours come through.
First flavour I notice come through was sweet grape like taste very reminiscent to something that has Grape Pie but less berry flavour .
Like a Cherry Pie in its lineage and more of Grape taste I would find in Grand Daddy Purple which is also what makes up Cherry Pie lineage.
As I continued I still taste the fruityness of the strain but did come across very subtle taste of gas/diesel very reminiscent of Jet Fuel coming through but not strong enough through the lineage.
Overall I enjoy the flavour very much hints of diesel that don't overpower the Grape coming through.
4.5/5
High/Effect

As I smoked 10 mins in Grape Gasoline
has some alertness make you want to move around and do chores. Also it gives you this happy kinda uplifting mood with mindset of creativity to finish that project or task.
Then I notice it tapers off into just relaxing almost sleepy vibes but keeping the haply relaxed vibes.
Overall it by definition what I would call potent hybrid as in good 50/50 balance of effects of alertness/sedating.
5/5
Final Conclusion:
First thing I want to say is great job by North 40 bringing on such talented grower like Helios .
Second and more importantly want to say how talented and appreciate the amazing job by Helios I growing this amazing strain also like mention before they are the growers I believe for Slurricane strain circulating through North 40 .
This strain is very helpful if you want something potent enough for ailment but also not put you out in couchlock and still function.
I found it personally help with mood ,appetite and pain but more mood for me but it can vary from person to person.
Overall out of 5 consider all the factors this strain is a solid 4.5/5 for providing great effects which comes important but it shows off in other aspects with aroma,flavour but trim and bud structure aren't as important to me they did prevent it from being perfect 5/5.
As always hope this helps and happy tokes ahead 👍👍🙏🙏🔥🔥💨💨
🔥🔥🔥🔥🔥o
The flavour on this one is incredible. Exactly what I have come to expect from North 40; Gord never disappoints!!
Fantastic
Intoxicating smell to this one. Sticky, tasty, potent. Try it, you won't regret it.
Amazing
This stuff is delicious. Smells great, smokes beautifully. Definitely my favourite strain so far since the relaunch.
Just AWESOME!
Don't let the low Terps % fool you. Very strong aroma and flavour. Great effects.
Pain free and relax
Good quality 👌 I vaped this stuff. It relax the mind and body ! Excellent analgesics properties also. Relaxes you without burning you out.
Creamy grapes !!
So delicious !! Love everything about this strain starting with the taste ! Yummy creamy grapes , super smooth smoke , very high quality. A must try for any grape fan. Buzz took over my body and put me in a completely relaxing state of mind. Great indica , you just fall into the clouds.
Just what the Doctor order
Full of grape flavor with a hint of gas very nice
Crazy terps you won't be disappointed Word! Lol
About North 40 Cannabis
North 40 Cannabis' mission is to grow great products for the most demanding customers and have fun doing it. North 40 is the quintessential Ma and Pa cannabis company. Run by Cara and Gord, this small, family-run cannabis company in the middle of nowhere was licensed as Canada's first micro-cultivator and micro-processor. This allows them to focus on quality and accountability in everything they do.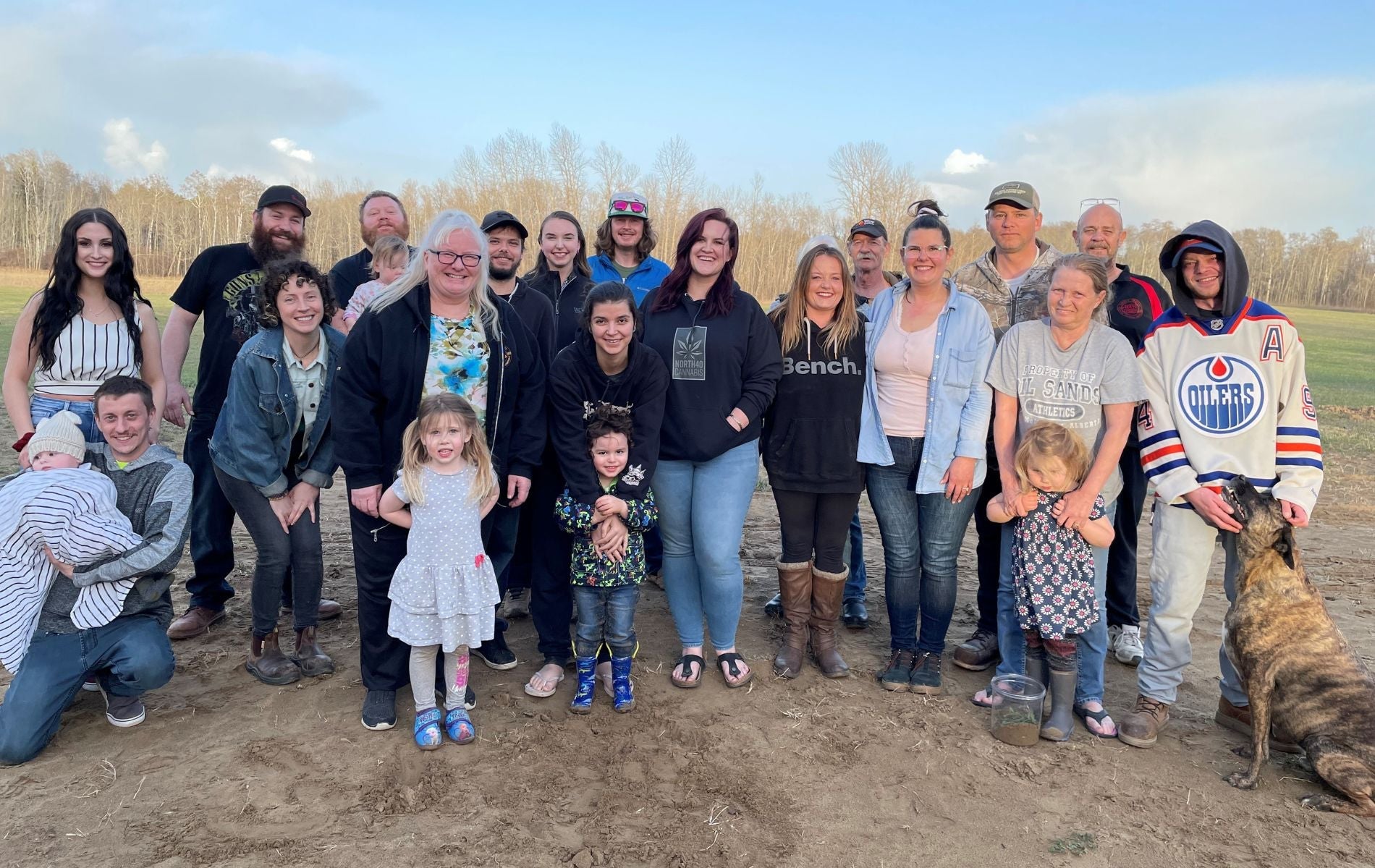 Choosing a selection results in a full page refresh.
Press the space key then arrow keys to make a selection.